Aneesh Bose wins 1st place in the iClimate Video Competiton
Nov 2015 - McMaster's Faculty of Science held a video competition in the autumn. Aneesh entered a video about his PhD research and won first place.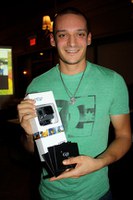 2015 iClimate Video Competition, First Place
This engaging video shows the incredible behaviour of the plain fin midshipman.  Aneesh Bose from ABEL is studying this species to understand cannibalism, competition and care in a species with alternative reproductive tactics.
The goal of iClimate is to publicize and raise awareness of climate change and environmental research at McMaster, foster interdisciplinary collaboration, and develop students' ability to share their research with the public in a creative and memorable way.   Aneesh won a Go Pro Camera for his efforts.  Way to go Aneesh!
Watch the video here.