Erin McCallum & Theresa Warriner win 3rd Place in Video Competition
Nov 2015 - Erin McCallum (ABEL PhD student) & Theresa Warriner (ABEL thesis student) were part of team based video project about their research on the effects of wastewater on freshwater fishes. This video won 3rd place! Go Wastewater Team.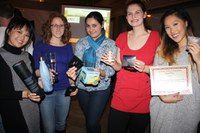 2015 iClimate Video Competition, Third Place
Erin and Theresa are part of a research team that is exploring the behavioural and physiological impacts of wastewater on fishes.  Their project  is the subject of a video directed by Sherry Du, an M.Sc. student in Dr. Graham Scott's lab in Biology.  Sherry Du has been focussed on the physiological effects with the help of  Mirjam Vaseghi-Shanjani, and Jasmine Choi (who are undergraduate students from Dr. Scott's lab).  Erin and Theresa have been focussed on behaviour.  The lovely wastewater ladies entered their fascinating video into the Faculty of Science's iClimate Video Competition.  The video describes in detail their work which was conducted last summer (2015).  This research is focussed on how treated wastewater might influence fish behaviour and physiology.  The project was kindly made possible with funding from the Royal Bank of Canada (Blue Water Fund) and with the support of Hamilton Water (Mark Bainbridge and Bert Posedowski) and The Royal Botanical Gardens (Jen Bowman and Tys Theysmeyer).
Watch the video here!