Melissa
Muzzatti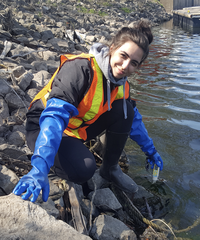 Biography:
Melissa Muzzatti is a fourth year student in Psychology, Neuroscience, and
Behaviour (PNB). Melissa is working as a Research Assistant for her first
time for ABEL. She is responsible for population monitoring round gobies
(Neogobius melanostomus) in Hamilton Harbour. Melissa is also working on a
summer project seeking information about the sex ratios of the round gobies
looking at data over the past 16 years of our research.